Old movies and old cocktails
I often get inspired by movies to create my cocktails. I like to represent classic tropes in the cocktails: femme fatales, suave gentlemen, and private detectives. I love that you can escape in this world of fantasy with a cocktail. I use it for fun names or get inspired by cocktails in the movies.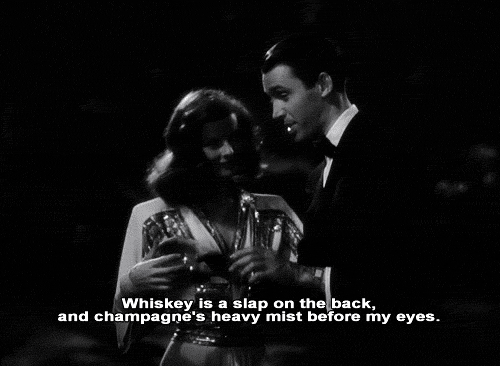 Cocktails can play a choice in how you understand the culture of the era and the culture of the characters on screen. Cocktails are a representation of who they are. For this week, I am inspired by old movies that use cocktails as a way to define characters. Here are a few of my favorite twists on cocktails.
Blonde Ambition
Champagne Cocktail
Ingredients
Blanc de Blanc Champagne
1 1/2 oz Rosé infused vodka
1 oz lemon juice
1/2 oz grenadine
Garnish: Lemon wedge or strawberry slice
Recipe: In a shaker with ice, pour rose infused vodka, lemon juice, and grenadine. Shake until cold. Pour into a flute glass. Top with Blanc de Blanc champagne. Garnish with lemon wedge or strawberry slice.
Gentlemen prefer whiskey
Bourbon Manhattan
Ingredients
2 oz Four Roses Bourbon whiskey
1 oz Chambord (black raspberry liqueur)
1 oz Sweet Vermouth
3 dashes of Angostura bitters
Recipe: In a mixing glass, pour Four Roses bourbon, Chambord, Sweet Vermouth, and Angostura bitters. Stir and pour into a chilled coupe glass. Garnish with raspberries.
Myrna Loy's Test Pilot
Gin Martini
Ingredients
2 oz Gin
1 oz Dry Vermouth
1 oz Lime Juice
3/4 oz Creme de Mure
1/2 oz Simple Syrup
Garnish: Lime peel
Recipe: In a shaker with ice, pour gin, dry vermouth, lime juice, creme de mure, and simple syrup. Shake until cold (about 30 seconds). Pour into a chilled martini glass. Garnish with a lime peel.